Wondering if the PowerSheets Intentional Goal Planner from Cultivate What Matters is right for you? You're in the right place! This review will help you decide if it's worth the purchase!
This review is pretty long, so I've included a table of contents if you'd like to skip ahead:
Whether you've been following along with The Quiet Type for a while or have had a chance to browse the blog archives, you may have noticed I used to do a monthly roundup. In them, I'd share helpful freelancing resources and do a check-in on my Monthly PowerSheets progress.
I haven't done a roundup in a couple of years now, but I'm still actively using my PowerSheets planner. In fact, I just purchased the 2023 version! That makes it three years in a row.
Scroll below to get the scoop on the PowerSheets Intentional Goal Planner, my experience, and why I've bought it three years running.
What is the PowerSheets Intentional Goal Planner?
The PowerSheets Intentional Goal Planner is a 12-month intentional goal planner.
Did you catch that?
Intentional.
If you're tired of setting goals only to have them fall by the wayside a few weeks or months later, this may be the planner for you. Lara Casey, the brain behind PowerSheets and Cultivate What Matters, designed the planner to help you discover the goals that really matter to you.
How does the PowerSheets planner do that?
PowerSheets uses prompts to help you reflect on the previous year. Each prompt is meant to uncover the areas of your life that you need to focus on to feel more fulfilled and happier. The planner then guides you as you identify your big picture goals and break them into smaller, actionable goals.
One thing I like that Cultivate What Matters offers for free is the Goal Setting Personality Quiz.
How to Use PowerSheets
After the brainstorming and goal setting pages, the PowerSheets planner is broken into quarters and months. Each section is separated by heavy-duty tabs.
As a planner and stationery nerd, I really appreciate the setup!
Once you've filled out the brainstorming and goal setting pages, you move on to the monthly pages. This is where you set realistic daily, weekly, and monthly goals.
Ideally, these goals correlate with your big picture goals and offer actionable steps to move you closer to achieving them.
But it's doesn't stop there.
Each monthly section requires you to do some self-reflection at the beginning and end of the month. At the start of the month, you'll fill out the "Let It Go," "Prepare Well," and "Make What Matters Happen This Month" pages.
Here's a quick breakdown of each page:
Let It Go – This is where you identify what's stressing you out, fears that are holding you back, and your hopes for the month.
Prepare Well – This is where you make note of any events or important to-dos for the month, as well as anything you're excited about.
Make What Matters Happen This Month – This is essentially a brainstorm page where you can write out what you want to accomplish this month.
With those completed, you'll fill out your "Trending List."
The trending list is where you'll fill in those monthly, weekly, and daily action items meant to help you get closer to your goals.
At the end of the month, the "Month In Review" page provides space to reflect on how the month went. Once the quarter is finished, there are pages to "refresh" your goals and identify what's working and what's not.
If you want a peek inside the 2023 PowerSheets planner, check out the video below.
What to Consider Before Purchasing a PowerSheets Intentional Goal Planner
If you're thinking about purchasing a PowerSheets goal planner, there are two things you should consider first:
the cost
the time commitment
Cost
First things, first: the cost.
The PowerSheets goal planner retails for $62 before tax and shipping. I know what you're thinking…"That's pretty spendy for a planner."
Trust me, I had the same thought when I purchased it for the first time in 2019. After tax and shipping, it comes out to about $75.
The PowerSheets planner is a big investment, so it's understandable to take a pause to consider the cost.
I read a lot of reviews before purchasing my first one, which was helpful.
While the cost may be an obstacle for some, it's important to weigh it against the cost of achieving your goals. The Cultivate What Matters website has some stats to help put the cost into perspective.
When you break the cost down of the year, PowerSheets planner is equivalent to:
One fancy coffee shop beverage a month
Less than one month of streaming
When you look at it that way, it's easy to find some wiggle room in your budget — though, as a self-proclaimed coffee addict, I don't think I'd sacrifice my monthly coffee budget for one!
Time
One thing I didn't take into consideration is how much time is invested in managing a PowerSheets goal planner. The first few sections are quite time-consuming!
The monthly pages of the planner require less time to fill in, though the quarterly check-ins take more time.
For some, this may not be an issue.
Others may feel like they're too busy to commit several hours to set their PowerSheets planner up. That's 100% understandable, but if that's the main thing holding you back there are ways to take make it work for you. For example, breaking it down into chunks allows you to fill in the planner without disrupting your schedule too much.
And, if you have goals that you really want to accomplish or simply need direction while setting goals, you'll probably be willing to devote the time to it anyway. Am I right?
Is a PowerSheets Intentional Goal Planner Worth the Purchase?
So here's the scoop.
I first purchased a PowerSheets planner for 2019 and, well…I was pretty underwhelmed by the experience. So underwhelmed that I almost didn't purchase another one.
I was actually really against the idea until I watched Ashlyn Carter's video about how she used her 2020 Powersheets planner.
It made me think I didn't give the planner a fair shot that first year.
And if I'm being totally honest, my 2019 PowerSheets goal planner has quite a few empty pages. That's because I didn't make it as big of a priority as I should have.
Unsurprisingly, I didn't reach very many of the goals I set for the year.
So, I decided to give it another shot in 2020 and the experience was so much better! I made sure to dedicate time to my planner at the start of each month. At that time, I'd check in on my goals to see how they were progressing and decided what the next action step was. Then, I'd figure out how that fell into my goals for the month. This method was so much better for getting me closer to my goals. The progress felt small month by month, but it definitely added up at the end of the year!
I was really pleased with my experience with the 2020 Powersheets planner, so I repurchased the 2021 version.
1. I've been more intentional.
My PowerSheets planner helped me set more detailed and intentional goals than in previous years. My planner also helped me be more accountable overall.
Since making it a priority in 2020, I've been far more productive. Last year, I accomplished almost all of my goals — despite the craziness of COVID-19!
2. It gives me a tangible way to track results.
With my Powersheets planner, I've been able to easily track the habits, systems, and processes I want to adopt for my business.
This has made it much easier to prep for the new year because I had a better idea of what was and wasn't working.
I haven't started filling out my 2023 planner yet, but I imagine it will be even easier than last year because I feel like I'm on the right track.
3. It kept me motivated.
What they say is true:
You are 42% more likely to achieve your goals if you write them down.
I mean, I will be the first to say that it can be hard to stay focused and on track when you're a business of one.
Having a system to keep me on track has made a huge difference in my personal and professional life.
Getting there can be a challenge, but PowerSheets (or a similar system) can really help. Especially if you're just getting started as a freelancer or recently took the plunge to freelancing full-time.
It's also a really great way to prep for the upcoming year and to recalibrate after taking time off during the holidays or returning from a vacation.
Parting Thoughts
While only you can decide if the 2023 PowerSheets Intentional Goal Planner, I do think it's worth the splurge.
So, if it fits your budget and aligns with your goals, go for it!
The 2023 designs are beautiful but you have to act fast because they sell out quick! I missed out on the color I wanted the first year so I always make it a point to purchase my new planner sooner rather than later. This year, I'm eying the planner in the color "Bluebird."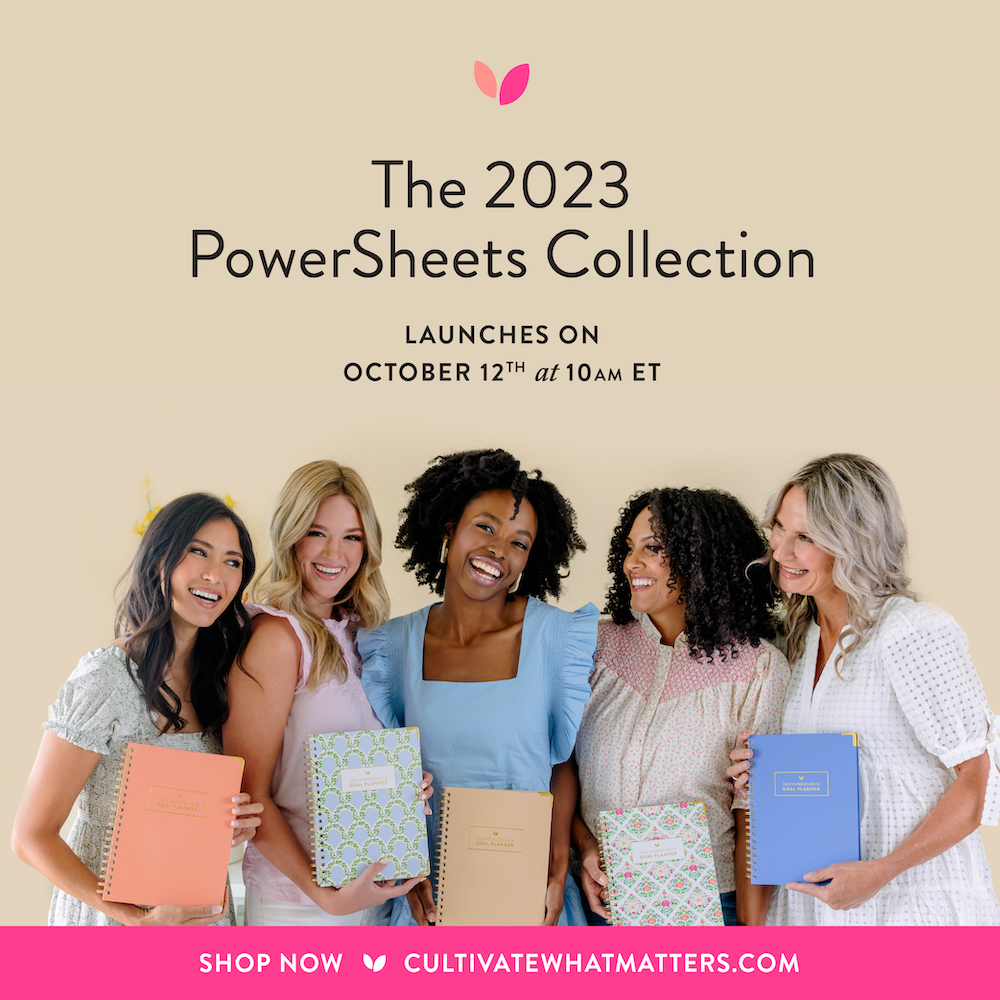 Best PowerSheets Accessories
There are a ton of accessories available to customize your Powersheets planner. They're not totally necessary, but they're fun! I've put together a list of what I think are the best Powersheets accessories. Check them out below.
1. Wildcard Page Pack
If you want to get even more value out of your Powersheets planner, I recommend purchasing The Wildcard Page Pack. It includes 24 wildcards in different categories, such as your goals at a glance, financial check-ins, reading lists, meal planning, and more.
You can easily insert the pages using scotch tape or washi tape. Otherwise, you can get the snap-in wildcard holder and move them around as you work through your planner.
2. Goal Setting Sticker Book
Spice up your Powersheets planner and goal setting pages with the Goal Setting Sticker Book! The 2023 version comes with over 1,300 stickers, including reminder and motivation stickers. I mean, who doesn't love stickers?
3. Bookmark
I love that the Powersheets planner is organized using tabs. It makes finding what you need pretty easy, but I still think it's worth it to invest in a page marker of some sort.
Before I did that, I would just leave my planner open to the current month. That worked fine, but it seemed to mess up the coil binding for some reason? So, I got a magnetic page maker instead. I highly recommend it!
Cultivate What Matters also released a new snap-in bookmark this year, which is another great option.
4. Carry All Pouch
Once you've got your 2023 Powersheets planner and the best accessories for it, you need a place to store it all.
Enter the brand-new Carry All Pouch! This is the larger version of the well-loved accessory pouch and is designed to fit your Powersheets planner and whatever accessories you need. You can also use it to carry notebooks, a tablet, pens, and more.
Get the 2023 PowerSheets Intentional Goal Planner Today!
There you have it: an in-depth review of the 2023 Powersheets Intentional Goal Planner and a list of the best Powersheets accessories! Hopefully, this review helped you decide if the planner is right for you.

Have you used the PowerSheets planner before? Did you love it, hate it, or just feel "meh" about it? I'd love to hear your thoughts, so be sure to leave a comment down below.

Wondering the PowerSheets Intentional Goal Planner from Cultivate What Matters is right for you? You're in the right place! This review will help you decide if it's worth the purchase!