For a lot of freelancers, finding long-term clients is a struggle. While one-off or short-term projects aren't necessarily a bad thing, your goal should be to build up a roster of long-term clients. This ensures that your workload — and income — is steady from month to month, which makes the experience of freelancing full-time a lot less stressful.
But how can you convert a new freelance writing client to a long-term client?
It starts with your very first point of contact. Whether that's a discovery call or an email inquiry, how you start the client experience is important.
In other words, you want to impress a freelance writing client from day one and continue to provide a stellar client experience throughout the project.
Not only does this make you look super competent and professional, but it also increases the chance they'll hire you again in the future — or better yet, sign on as a long-term client by purchasing a monthly service package.
Ready to find out how to impress a freelance writing client from start to finish? Get the scoop below!
1. Send a Detailed Proposal
After your initial call, the client will often ask for a proposal. The proposal is meant to go over each of the services the client is considering hiring your for, as well as to quote a price for the project. When sending a proposal, it's crucial to be as detailed as possible so the client knows exactly what they're getting with each service.
If they're hiring you to write a blog post, don't just list "blog post" on the proposal. You'll impress a freelance writing client more if you provide in-depth information about exactly what they'll get.
Here's an example:
When it comes to creating a proposal, don't just list out your services and pricing in an email. Send the client an actual document that's formatted properly. Sure, an email may save you time but a PDF is much more professional.
There are a couple of options for creating a proposal:
▷ Use your invoicing software: This will obviously depend on what invoicing software you use but I think most have an estimate/proposal feature. I use WaveApps to create proposals and invoices. Wave is 100% free to use and you can set up a services database to automatically populate notes about what your proposal includes.
▷ Create a custom proposal using Canva: This takes a little more work upfront because you have to put the template together but once you have it you'll just have to fill in the appropriate information.
▷ Use And Co's proposal feature: I've used this in the past and although I prefer to use Wave, it's a pretty easy tool to use.
2. Send a Contract
If you've been submitting work without a contract in place, stop right now! A contract is super important for freelancers. Without one, you're vulnerable to scope creep and you have no legal grounds if the client doesn't pay. Having a contract in place is not only professional but also protects both parties, which is sure to impress a freelance writing client.
Like with creating a proposal, there are several different ways to do this:
▷ Create a custom proposal using Canva: Again, this takes a little more work upfront because you have to put the template together but once you have it you'll just have to fill in the appropriate information.
▷ Use And Co's contract feature: I've also used this feature from And Co in the past and I have to admit it's not my favorite. The contracts are super detailed, which is great. However, they're not as customizable as I'd like. And Co also recently started charging for their services and I think you can only have 1 or 2 clients before they require you to upgrade.
▷ Purchase a template from The Contract Shop: I've never bought a template from The Contract Shop but I've heard great things. You also have the added benefit of them being prepared by an attorney, so you don't have to worry if they'll hold up in court.
Check out The Contract Shop here.
3. Send a Welcome Packet
Once your proposal has been accepted and the contract has been signed, send the client a welcome packet. This will impress a freelance writing client because it contains all the pertinent information related to working with you.
It outlines:
Who you are
How you work + communicate
Your office hours + response time
How to schedule a call
Where the project and corresponding documents live
Where they can find a copy of the proposal and contract
How to submit revisions or feedback
Need help getting started? I suggest checking out this blog post by Ashlyn Carter where she details how to create a client welcome packet.
4. Impress a Freelance Writing Client With a Welcome Gift
Another way to impress a freelance writing client is to send them a small welcome gift. This is definitely optional and may depend on where you're at in your business but it doesn't have to be super elaborate or expensive.
I personally like to send my new clients a cute postcard telling them how excited I am to work with them. I'll also send a thank you note to current or past clients who refer a new client to me. While not necessary, I think it's a nice touch and lets the client know that you appreciate their business. Plus, who doesn't love getting mail?!
Here's an example of a few cute postcards I've sent: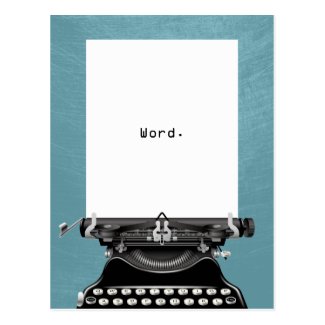 Tip:
I love using Zazzle for client cards. They have awesome and affordable options for thank you cards,
holiday cards
, and just for fun.
5. Be Available
One of my biggest pet peeves when working on a project is a lack of communication and you can bet I'm not alone. Clients want you to make communication a priority. Yes, you're running your own business but that doesn't mean you should only check in sporadically.
To really impress a freelance writing client, you have to make yourself available to them. That means responding to emails, phone calls, and questions in a timely fashion. It also means not waiting forever to respond to an inquiry about a potential project. Wait too long to reply and the client may move on to another freelance writer.
That being said, it's okay to have set "office hours" as long as you communicate them to your client. If a client is aware of your office hours and contacts you outside of them, it's okay to wait until the next business day to respond.
You also shouldn't feel obligated to be at a client's beck and call at all hours of the day. However, an exception to this would be if there is an emergency or time-sensitive issue related to the project.
6. Over Deliver
Have you ever heard the phrase, "under promise and over deliver?" Well, it definitely applies here! Whether that means turning in work before the agreed-upon deadline or drafting a meta description for their blog post without being asked, exceeding a client's expectations is always in your favor.
When turning in work, always make sure it's formatted correctly and as error-free as possible. Most freelance writing clients expect to have to format submitted work and check for errors. Save them the trouble!
Going the extra mile will impress a freelance writing client because it saves them time. They're also more likely to hire you again because they trust the quality of your work.
Even if you're a great writer, I recommend using Grammarly. Grammarly has a free Chrome extension that checks the grammar, spelling, and tone of your work. Sounds like spellcheck, right? Wrong!
Grammarly works whether you're writing an email, a blog post, or typing in a Google Doc and it catches errors that a normal spellcheck tool doesn't — it's basically spellcheck on steroids. I've noticed my writing has improved so much since I started using Grammarly and I don't have to worry about missing mistakes while proofreading.
One more thing: When you turn in work and send the final invoice, be sure to ask the client for a Google review or a testimonial to display on your website. This is the best time to do it because the experience is still fresh in the client's mind. Asking for a review down the road is okay too, but it may be harder to get or be less glowing than if you had asked right away.
7. Send a Thank You Gift
While sending a thank you gift is just as optional as sending a welcome gift, I'd recommend not skipping this step if you want to impress a freelance writing client. Just as with a welcome gift, a thank you gift doesn't need to be super elaborate or expensive. I recommend something as simple as sending the client a thank you note or postcard like the one below.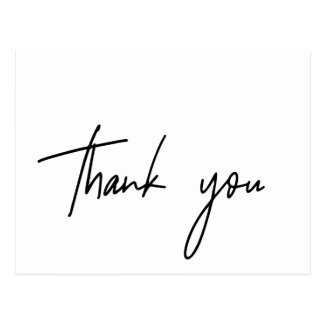 Not sure what to write? Here's an example:
"[Client Name],
Thank you so much for inviting me to be a part of your project! It was so much fun to learn more about [Company Name] and [What the company does or topic you provided content for]. If you need any other projects completed in the future, please feel free to reach out. I'd love to work together again.
Best,
[Your Name]"
Providing a Positive Client Experience Creates Lasting Relationships
Finding clients as a freelancer isn't always an easy task, so the goal is to build up a roster of loyal, long-term clients. Ensuring the client has a positive experience while working with you gives you a better chance of converting them to a long-term client or that they'll recommend you to their peers. That's why it's so important to develop streamlined processes.
Having processes in place, as well as providing the client with the resources and information they need, will help the project run smoothly. It also makes the experience so much easier for the client to manage while juggling their other day-to-day operations. By making it a point to impress a freelance writing client right out of the gate and throughout the project, they'll be more likely to hire you again in the future.
I hope you found this article helpful! You may also want to check out these guides on why it's okay to tell a freelance client no and 10 warning signs of a bad freelance client.
Are there any extra steps you take to blow your freelance clients away? I'd love to hear about them! Leave a comment below.