So, you decided to take the leap into freelance writing; congrats! If you're here, it's probably because you're wondering what you need to get started.
While you don't need much to get started as a freelance writer, you do need more than a laptop and basic writing skills—especially if you want to make a full-time living.
Becoming a successful freelance writer requires you to invest in tools that help you manage and scale your business.
Don't let that scare you though!
You don't need to try to fit expensive tools into your budget. In fact, many of the writing tools mentioned in this article are free to use. For the tools that are on the more expensive side, I've included free or budget-friendly alternatives.
Ready to get started? Let's go!
What are the Best Business Tools for Freelancers?
Before we get into the best writing tools for freelance writers, let's talk about the business tools that all freelancers can benefit from.
Running a successful freelance writing business goes beyond producing content for clients.
There are a lot of behind-the-scenes tasks that need to be handled every single day. The same can be said for pretty much any type of freelancer out there.
On that note, here are some of the best tools to help freelancers run their businesses more effectively:
Website hosting: My top two recommendations for web hosting for freelancers are SiteGround (for WordPress sites) and Squarespace.
Productivity + Time Management: Keep track of how you're spending your time and billable hours with Toggl Track.
Invoicing + Bookkeeping: I recommend Freshbooks or WaveApps for invoicing clients and keeping track of your business finances.
Email Tracking: Keep track of your cold emails and leads with the free Chrome extension for Streak.
Related: The Top 13 Tools for Freelancers and Online Business Owners
What are the Best Writing Tools for Freelance Writers?
Now that you know what the best tools are for running an online business, let's talk about tools specific to freelance writers.
From client and project management to SEO and marketing, it's all here.
01. Google Drive
Google Drive is an important part of my writing business and it's one of the best tools to have at your disposal. It's such a great way to keep your files organized and share them with clients as needed.
As a freelance writer, I primarily use Google Docs. My favorite feature is the ability to provide feedback and suggest edits directly in the draft.
There's no need to keep track of multiple versions of a document because you can both edit in real time. All changes are stored in the cloud, so you can always bring back a previous version if you need to.
I also love that you can get add-ons to make Google Docs even more robust.
Here are some awesome Google Doc add-ons for writers:
SEMRush SEO Assistant: If you have a SEMrush account, you can connect it to your Google doc and essential use it like the Yoast SEO plugin for WordPress.
GDoc SEO Assistant: If you don't have a SEMRush account, this is a great alternative for checking SEO performance right in your doc.
OneLook Thesaurus: Look up synonyms without having to leave your doc.
There's so much more you can do with Google Drive too; from spreadsheets and presentation slides to forms and surveys to image sharing and more. It's a really great organizational hub for freelance writers.
Get started with Google Drive here.
02. Evernote
Evernote is the perfect complement to Trello or any other project management tool.
It's an awesome writing tool for freelancers because you can easily organize notes and ideas in one place.
Best of all, Evernote is entirely searchable so finding those notes and ideas later is a breeze. Everything is organized into notebooks and you can add tags to group content together.
Evernote is fairly simple as far as writing tools go but there are so many things you can do with it. I personally use it to jot down ideas, outlining blog posts, planning digital products, and taking notes during client calls.
03. Grammarly
As a freelance writer, it's critical that you produce well-written, error-free content.
Even if you're a great writer, mistakes happen. That's why it's important to use tools that help you put your best writing forward.
While spellcheck is helpful, it doesn't catch every mistake or the nuances of writing for the web.
Grammarly is the best writing tool for freelancer writers, hands down. It's sort of like spellcheck but so much better.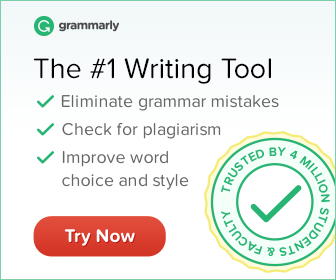 The free browser extension will check your emails, social media captions, and documents for spelling, grammar, punctuation, syntax, and more. You can use it with a lot of different apps too, including Google Drive.
You can definitely get by with the free version of Grammarly, but if you write a lot of content, the premium plan is worth the investment.
The premium plan includes advanced features that check for things like plagiarism, engagement, clarity, and delivery.
Click here to get started with Grammarly for free.
04. SEMRush
Writing for the web can be complex, especially when it comes to SEO. Whether you write blog posts or website copy, having an SEO tool in your toolkit is a must.
SEMRush is one of the best around. You can easily find relevant and high-performing keywords, perform SEO audits, analyze domain performance, and do competitor research for your clients.
One of my favorite features about SEMRush is that it gives you recommendations for SEO and content marketing so you can fine-tune your efforts.
Learn more about SEMRush here.
Tip: SEMRush is a bit of an investment, especially when you're just starting out. If you want to go the budget-friendly route, I highly suggest Moz and Ubersuggest. Both offer helpful SEO tools for free.
05. CoSchedule Headline Analyzer
A freelance writer's ability to write click-worthy headlines is crucial. CoSchedule's free Headline Analyzer is a super helpful writing tool when it comes to writing titles that drive more clicks.
Just enter your title and the Headline Analyzer will generate a score. It will also give you feedback so you can tweak your headline to perform better.
CoSchedule also has a free Chrome extension for its Headline Analyzer. When you install it to your browser, you can check your headline performance right in Google docs or WordPress.
Try out CoSchedule's Headline Analyzer here.
06. Hemmingway App
The Hemmingway App is an editor meant to improve your writing's readability. It highlights and corrects grammar, but it also analyzes sentence structure. This is helpful if you tend to write a lot of long sentences, as they can be hard to follow.
Hemmingway is pretty useful, but I would still recommend Grammarly over it. It's just a nice addition to fine-tuning your writing for different audiences.
Click here test out the Hemmingway App.
07. Temi
Depending on the type of writing you do, you may need to transcribe interviews from time to time.
Now, you could do it yourself but honestly, who has time for that? Not me!
A writing tool like Temi comes in clutch when you need to transcribe an interview. It can save you a lot of time trying to pull out quotes to use in a case study or article.
Just upload an audio file and you'll have a transcript in less than 10 minutes. You can remove filler words like "um" with the click of the button, make edits, or add notes for clarity.
It costs $0.25 per minute to get a transcript from Temi but it's such a lifesaver. If you sign up for an account, you can get your first transcript for free.
08. Stock Photo Memberships
Many freelancers produce work that requires images, including freelance writers. Knowing where to find high-quality, license-free images is a must. Luckily, there are plenty of places to find free stock photos.
Here are some of the best sites to find license-free stock photos:
While free images are handy, a stock photo membership may come in handy if you produce a lot of content that requires images. I highly recommend checking out Pixistock, Ivory Mix, and Death to the Stock Photo.
09. Canva
Some clients may ask that you submit graphics along with written content. Canva is one of the best platforms for creating graphics and editing images.
If you don't have experience with creating graphics, don't worry! Canva has a ton of templates to make it super easy.
You can also use Canva graphics for your own content and freelance writer website. Many of the images on this blog and my business website were made using Canva, including the images in my freelance writing portfolio.
Aside from website content, you can use Canva to create Pinterest images, social media graphics, opt-in freebies, ebooks, and more.
Click here to get started with Canva.
Find the Tools That Work Best for You
There you have it; the top 9 writing tools for freelance writers. These tools will be beneficial regardless of where you're at in your business.
That said, the tools that may work for one writer may not work for another. Keep an open mind and be willing to test out different options to find what works best for you.
Do you have a favorite writing tool that I didn't mention? Tell me about it in the comments!
For even more of my favorite tools and resources, check out The Quiet Type's new and improved resource library. It includes a complete list of all the tools I use to run a successful freelance writing business and blog.
If you enjoyed this article, you may also want to check out these reader favorites:
Follow along on social media for more tips on freelance writing and running an online business: Instagram + Facebook + Twitter + Pinterest
---
Did you find this article helpful? Save it to Pinterest!