Updated
The Best Gifts for Writers
As I type this, the holidays are right around the corner and approaching fast. As much as I love the holidays, I always struggle when it comes to picking gifts for my loved ones. I'm also the worst procrastinator when it comes to buying gifts (oops!).
I'll start brainstorming a few months in advance but I don't actually get around to purchasing anything until a week or two before. Then when I do actually find a gift, I get so excited about it that I can almost spill the beans! I'm terrible at keeping secrets!
If you're anything like me, you might be having trouble thinking of the perfect gifts for your loved ones. To make it a little easier on you, I've compiled a list of 30+ gift ideas for the writer in your life. Though I made this gift guide for the upcoming holiday season, these gifts are perfect for any occasion!
Before you get started, I just wanted to let you know some (but not all) of these links are affiliate links. That means, when you make a purchase using one of my links, I may receive a small commission at no extra cost to you. The commissions I receive from those purchases help support my blog, which I really appreciate!
So, without further ado, here are 30+ ideas to find the perfect gift for a writer!
Pin this for later!
1. An Audible Membership
Audible makes a great gift for a writer who likes to multitask! With an audible membership, they can listen to their favorite audiobooks while still being able to accomplish their daily tasks.
〉〉〉 Get it here 〈〈〈
2. Online Courses or eBooks
Online courses like Megan Johnson's eBook Ninja or Jorden Roper's Killer Cold Emailing make a great gift for a writer because of the variety and the opportunity to grow as a writer. Not sure what course your writer would like? Purchase a monthly membership on SkillShare for just $8.95 and they'll have instant access to over 24,000 classes.
3. The Freedom Journal
The Freedom Journal is the perfect gift for a writer with ambitious goals. It helps you set SMART goals and achieve them within 100 days by keeping users accountable through the use of daily to-do lists, 10-day sprints, and quarterly reviews.
This journal is beautifully designed with its vegan leather hardcover and gold foiled pages. Plus, it's a gift that keeps on giving. When you purchase a Freedom Journal, you get a discount on all future orders and access to free PDF downloads of the pages.
4. A Book of the Month Membership
Writers generally have a love of books, so a Book of the Month membership will win major points! Each month, BOTM curates a collection of 5 hardcover books in different genres for their subscribers. A monthly membership costs $14.99 (almost half as much as a normally priced hardcover book) and members can add up to two more books to their box each month for just $9.99.
To give you an idea of what the books are like, here are some of my favorite BOTM selections from 2019:
Click here to learn more about a Book of the Month membership.
5. Cute Coffee Mugs
I am not ashamed to say I'm a coffee mug hoarder. (Don't believe me? My Instagram has plenty of mug pics!) If you can't find me in Target, check the coffee mug isle. There's a good chance you'll find me.
Not everyone is as obsessed with coffee mugs as I am but they still make great a great gift for writers.
Check out these cute mugs from Blogging Mode!
No Coffee No Workee – Funny Quote Mug For Entrepreneurs – 11oz
Drink Coffee Get Stuff Done – Coffee Humour Mug For Entrepreneurs – 11oz
6. A Tablet
A tablet would make a great gift for a writer always on the go. They're much easier to travel with than lugging around a clunky laptop, especially when the chances are good there are a few notebooks and novels in that bag!
7. A Coffee Gift Card
While working from home is great, there are some days writers crave interaction with other people. A gift card to their favorite coffee place makes the perfect gift for a writer and gives them an excuse to put on real clothes for once.
8. Custom Stationery
Writers love to write…so why not give the gift of custom stationery? You can pick from done-for-you options or design your own on Zazzle.
Here's some inspo: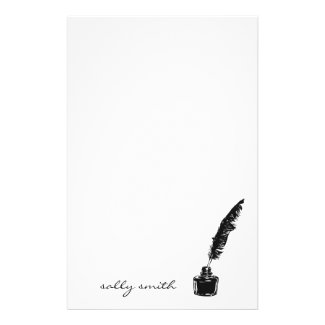 〉〉〉 Check out Zazzle here 〈〈〈
9. Big Magic by Elizabeth Gilbert
Like You Are a Badass, Big Magic by Elizabeth Gilbert is an awesome read. It's especially geared towards creative types (hello writers!) and is a go-to when you find yourself in a creative rut.
You can read more about why I love Big Magic here.
10. A Spotify Membership
Some writers prefer to work in silence. Others like a little background noise. A membership to a music provider like Spotify (my personal fav) makes a great gift for a writer. Music memberships are also great for those that love to listen to podcasts while doing boring tasks or daily chores.
11. Notebooks
Writers are suckers for cute notebooks so it makes sense they make a great gift for a writer. Not everyone understands the obsession of buying notebooks you don't need (yet) but writers do!
12. A Throw Blanket
Gift the writer in your life a cozy throw blanket to keep in their office. It makes it easy to keep warm when they're on a roll and don't want to stop to grab a sweatshirt. The fuzzier, the better!
13. Headphones
Sometimes noisy distractions are inevitable. Noise-canceling headphones are an easy solution to ensuring a writer stays on track and distraction-free. My absolute favorite noise-canceling headphones are from Skullcandy. They're a little more affordable than headphones from Bose and Sony, though both are great options.
14. Fun Pens
My favorite pens are the EnerGel pens from Pentel and the Sharpie pens. Another option? Gelly Roll pens! I know I'm not the only one that remembers these pens! They were a staple growing up and they definitely instilled a love for pens and stationery into me. Seriously, I love a good pen!
The same can be said for writers everywhere so it makes sense they're a fun addition to whatever gift you get for a writer.
15. A Wine Subscription
Writers may love their coffee, but wine is usually a close second! Sign them up for a wine subscription like the one from Winc and they'll get a special selection of wine delivered to their door each month.
16. PJ's
Let's be honest, when a writer gets up in the morning she's probably heading straight to her work zone to with bright new ideas. Before she knows it, it's 4 o'clock in the afternoon and she's still hasn't showered.
Help her feel a little more put together with some cute PJ's!
17. Yoga Pants
When you're sitting at a chair all day long, comfort is key. Yoga pants are just as comfortable as pajamas but are way less embarrassing to wear to the grocery store or coffee shop!
A go-to favorite? Yoga pants, an oversized sweater, and some fuzzy socks. When it comes time to run out of the house, just pull on a pair of boots!
18. A Bluetooth Speaker
Bluetooth speakers are perfect for playing music, audiobooks, or podcasts. For maximum effect, why not bundle a Bluetooth speaker with a membership like Spotify or Audible?
19. Fingerless Gloves
Have you ever tried to type when you're hands are cold? I don't recommend it!
I do recommend fingerless gloves as a gift for a writer, though!
20. A Bathrobe
One of the absolute best things about working from home is getting to wear comfy clothes all day. There's nothing better than feeling cozy and a bathrobe does just that!
21. The You Are a Badass Books by Jen Sincero
If you asked me to tell you the top 5 books I recommend, the You Are a Badass and You Are a Badass at Making Money by Jen Sincero would definitely make the list.
Both books are super uplifting and perfect for anyone looking for a mindset shift, especially when it comes to telling that annoying little voice in the back of your mind to just shut up, already. You Are a Badass at Making Money is also really great if you have a negative relationship with money.
Read more about why I love You Are a Badass here.
22. Slippers
This goes back to being cozy. It's hard to write when you're cold so why not give the gift of slippers?
Fuzzy socks work too!
23. A Kindle
A Kindle would make the perfect gift for a writer who loves to read (especially with a Kindle Unlimited membership). Having access to thousands of books at your fingertips is magical! Plus, having a Kindle gives you access to free library eBooks too!
24. A Kindle Unlimited Membership
A Kindle Unlimited membership is a wonderful gift for a writer whether it's in conjunction with a Kindle or a gift all it's own! Members of Kindle Unlimited get access to over 1 million ebooks and audiobooks!
〉〉〉 Check it out here 〈〈〈
25. Bookends
Bookends are a unique gift for a writer. Whether they're being used for the books they've written or their favorite mystery novels, bookends can be a fun display item!
Here's some inspo:

26. A Planner
Having a place dedicated to daily tasks, appointments, and to-do lists are great so a planner makes an excellent gift for a writer. My favorite is the daily At-A-Glance planner.
Finding the perfect planner was a huge struggle but I've been using this one since 2018 and it's kept me so organized.
I love it because each day has its own page which includes a spot for appointments, top 3 tasks for the day, and a to-do list section. Every month has its own tab and calendar, plus a place to plan your goals and tasks for the month. Each daily page also has spots dedicated for extra notes (this is where I keep a gratitude list), a "win of the day," and a tracker. It's seriously the best planner ever!
My other favorite is the Panda Planner. Like the daily At-A-Glance planner, the Panda Planner has both monthly and daily pages. In addition, it has a "week in review" page where you can look back at your wins from the previous week and plan out the next week. My favorite part is the daily pages, which includes spots for:
3 things you're grateful for
3 things you're excited about
1 daily affirmation
Daily exercise goal
Top focus for the day
5 tasks to complete
A to-do list and notes section
Appointment section
3 wins of the day
1 way to improve
Typing that all out made me realize how impressive this little planner really is; It definitely packs a lot into each day!
27. The Freelancer's Bible by Sarah Horowitz
If the writer in your life makes a living (or even dabbles in) freelancing, The Freelancer's Bible is a must. It's the perfect gift to help your freelancing friend navigate the confusing landscape that comes with freelancing.
It covers topics like setting up a freelance business, finding clients, paying taxes, etc. It definitely lives up to its name!
Need a little more book inspo? Check out this post for 5 books I recommend to freelance writers and this post for 4 more!
28. A Coffee Maker
A quality coffee maker is a must for any writer working from home! I rely on my trusty Keurig for my daily coffee infusion but there are other options like a cappuccino maker or a cold brew coffee maker!
My personal favorite is the Takeya Cold Brew maker. When I started working from home full-time I knew I needed to cut down on my fancy coffee habit, so I bought this guy for under $20. Let me tell you, it's paid for itself 10x over! I even bought one for my mom!
Find out what their favorite way to drink coffee is and select a coffee maker based on that.
29. Web Hosting
Web hosting is a really cool gift for a writer! You can either renew their current hosting plan or purchase a new hosting plan for the next adventure. Either way, web hosting makes a great gift!
Need a recommendation?
Check out SiteGround and get web hosting for as little as $3.95/month. I host all of my websites through SiteGround. I even transferred one of them from a different host to SiteGround and the process was so simple. It was amazing!
〉〉〉 Learn more about SiteGround here 〈〈〈
30. A Domain Name
Domain names and web hosting go hand in hand, so they're the total package when thinking of a gift for a writer. Most web hosting services offer domain names through their site, so be sure to check it out!
Other Gift Ideas for Writers
External Hard Drive to keep their work secure and in once place
Laptop case to keep their computer safe while traveling
Wall art for their office
Tickets to a conference for writers
Writing themed clothing such as a sweatshirt or t-shirt
Want even more ideas? Check out my gift guide for bloggers.
I hope this gift guide gives you some inspiration when picking out a gift for a writer! PS…You can also check out some of the products/services I swear by in my Resource Vault.
Hi! I'm Katie, a full-time freelance writer and blogger. I share tips and advice on freelance writing, blogging, and creative entrepreneurship to help people just like you pursue your dreams of working from home! Download my free workbook, A Freelancer's Guide to Setting Rates, here.